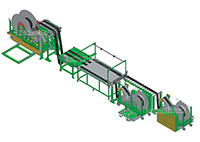 DESCRIPTION
This Fabric Doubler machine is used to double (with a Max offset of 30mm & Min offset of 5mm) precut Fabric of required width over an Assembly table to a required length and to wind the same on a cassette/Shells at windup station.
THE MACHINE WILL HAVE FOLLOWING ITEMS
Single roll-four Let off Station with Loop control.
Assembly table.
Transport Conveyor.
Loop control in front of Transport Conveyor.
Windup Station to suit cassette/shells with liner centering unit (E+L).
Complete electrical & Pneumatic controls.
Empire Techno Engineers Pvt Ltd is a manufacturer of finest tyre making machines with highest quality standards. We lay high emphasis on the quality of our products to ensure greater customer satisfaction. We are manufacturer of tyre machinery since 1985 and today emerged as India's leading supplier.
Empire techno is a well known company for Machinery for making tyre. We build Tyre manufacturing machines which are best in class & quality.