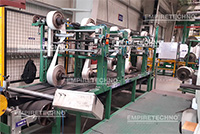 DESCRIPTION
Chafer Slitter machine is used to Slit Fabric/ Nylon coated cross woven at the set width and rewound on spoolers/shell in surface winding, according to product thickness, on each spooler/Shell. It is aimed to feed tire building machines/Inner linner machine with minimum down time. This cut material represents the joint less chaffer which is oblique in modern tire design. Hence, the correct preparation and quality has distinct influence on the performance of tires. This machine have arrangement to run both Automatic & Manual Mode. The Loading/ Unloading of material are manual. The slitting performed on this machine is by means of positively driven toothed rotary cutter or Crush cutter.
PRODUCT TYPES
Chafer/Fabric Cross Woven
Features
State of the art design
Highly precision material centering system before material enters winding station
Complete PLC control and touch panel for easy operation of machine
Provision for liner feeding on each spool/shell with independent pneumatic brake on liner roll to maintain uniform tension
Simple cutter arrangement to set at desired cut width
Feeding of material manually at adequate working height.
Technical specification
| | | |
| --- | --- | --- |
| S.NO. | ITEM DESCRIPTION | DIMENSION/TYPE |
| 1 | Cutting Type | Toothed rotary cutter or Crush Cutter |
| 2 | Parent Roll Width | 800 mm |
| 3 | Parent Roll Diameter | Max 500mm |
| 4 | Parent Roll Weight | Max 400 kgs |
| 5 | Slit Width | Min-35mm |
| 6 | No of Strips | As per user requirement |
| 7 | Wind up Roll Diameter | Max 500mm |
| 8 | Wind up Shell Length | 400 mm |
| 9 | Line Speed | Max-30 Meters/Min |
| 10 | No of winding stations | Min-4 stations & Max-8 stations |