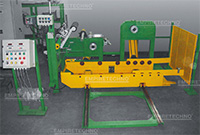 DESCRIPTION
The cassette undergoes winding & unwinding many times within plant operations. During frequent winding or unwinding, the liner gets dirty, form wrinkles, gets loose and de centered. This unit has been designed to reroll liner from liner roll to the product roll, and then vice versa to remove wrinkles, creases, and cleans the liner by brushing and removing dust from liner.
SCOPE OF SUPPLY
REROLLING STATION
Wind Up station is designed to suit any particular cassettes for rerolling operation. Each Roll (i.e. Stock Roll and Liner roll is driven by an AC Variable speed Geared Motor)
EDGE GUIDING
Electro Electronic edge guiding system of E+L Make (For guiding the Liner on way back from Stock roll to Liner roll)
WEB TENSION
A pair of load cells is used to give feedback to the tensioning system which ensures the liner is winding in uniform tension.
CONTROLS
A dedicated electrical panel consisting of PLC, VFD's and switchgears.
SCRUBBER ROLL
Scrubbing/ Brushing – To clean the liner
SPREADER ROLL/BOW ROLL
To remove wrinkles and creases.
ABOUT EMPIRE TECHNO
Empire Techno Engineers Pvt Ltd is a manufacturer of finest tyre making machines with highest quality standards. We lay high emphasis on the quality of our products to ensure greater customer satisfaction. We are manufacturing tyre making machines since 1985 and today emerged as India's leading supplier.