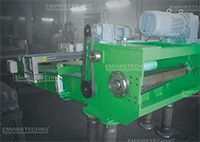 DESCRIPTION
Sheet feeders are designed to be either mounted to your Mixing Mill frame or put up in front of the weighing conveyor in a Mixer feed line. This means that space constraint never becomes an issue for you to extract more out of your existing mixing operations. And since only one operator can control the mill (or mixer) and sheet feeder, the operation does not increase your labor cost.
THIS UNIT CONSISTS BASICALLY OF THE FOLLOWING PARTS
Sandwich type feeding Conveyor Belt.
Rotary cutter
Heavy duty hardened roll.
SANDWICH TYPE FEEDING CONVEYOR BELT
The sandwich conveyor 900 mm Wide takes the slab out from the pallet and carries it on the hardened roll. Two conveyors clamping and driving the slab constitute it.
ROTARY CUTTER
The rotary cutter on the sheet feeder cuts the fed rubber sheets into uniform rectangular pieces. This results in better dispersion of the rubber sheets in the mixing mill (or mixer for final batch).
HEAVY DUTY HARDENED ROLL
The heavy sturdy hardened roll placed under the two blades has due to the particular fitting long life and hardly any maintenance needed.
The unit is driven by an AC Variable speed Geared Motor 1.5kW for conveyor belt, to adjust correctly the feeding speed with the quantity of rubber requested, while the rotary cutter is driven by an AC motor 7.5kW.