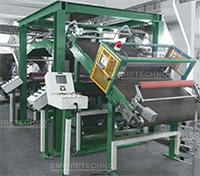 DESCRIPTION
The dual inner liner wind up station for calendar line is used for automatic winding up of a sheet of calendered liner in CAPTIVE ( Dedicated) and NON CAPTIVE ( Drop in Type) cassettes. These dual wind up units are retrofitted with the existing calendar line running up to 30 mpm speed. Wind up station is designed for stretch free / wrinkle free operation and the product is centrally wound in the liners with uniform tension. The unit includes all necessary mechanical parts, electrical drives, pneumatics and controls.
SCOPE OF SUPPLY
Inlet conveyor
Online Cutter
Wind up station 1
Moveable conveyor
Wind up station 2
Features
Both Wind up station fully equipped with Liner centering system.
Controls are designed to run in tandem with our existing calendar line.
Necessary provision is given to run the machine in Manual / Auto mode and there should be a provision to run in Forward / reverse mode.
Each wind up unit is synchronized with the calender line so that there is no pull or dimensional changes to the end product.
Final product is centered within +/- 2 mm in the Liner and the liner will be perfectly centered in the cassette.