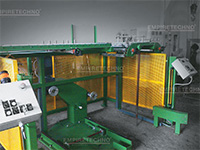 DESCRIPTION
The dual breaker wind up station for wire/steel cord bias cutter is used for automatic winding up of breaker in CAPTIVE (Dedicated) and NON CAPTIVE (Drop in Type) cassettes. These dual wind up units are retrofitted with wire bias cutter. The start/stop of the wind up unit is controlled through loop sensors installed in a pit at starting of wind up unit.
SCOPE OF SUPPLY
Inlet conveyor
Cutter – Rotary knife on Inlet conveyor
Wind up station 1
Moveable conveyor
Wind up station 2
Features
Controls are designed to run in tandem with existing wire/steel cord bias cutter.
Necessary provision is given to run the machine in Manual / Auto mode and there should be a provision to run in Forward / reverse mode.
Each wind up unit is synchronized with the loop sensors so that there is no pull or dimensional changes to the end product.
Final product is centered within +/- 2 mm in the Liner and the liner should be perfectly centered in the cassette.