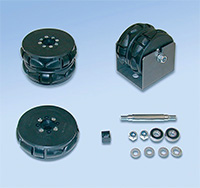 DESCRIPTION
Simplex rollers are extensively used in various industries such as beverage, food, packaging, electronics, milling, rubber etc. Our simplex rollers are Omni Directional Rollers which enables smooth and easy the movement on a material conveyor system. These simplex rollers are highly reliable and offer maximum performance that is able to fit a wide range of conveyor systems.
Features
Excellent durability
Moisture and abrasion resistant
Easy to install and use
Able to handle varying pressure
Long lasting operational life
Low maintenance
Cost efficient
We are pleased to inform that we are now authorized dealers of Finland based company OKARTEK in Asia.
OKARTEK basically deals in Omni rollers/multidirectional rollers which are suitable for all applications, where flat based goods are transferred, compiled, sorted and shipped. Multidirectional roller system is based on the roll, which rotates as well as the main axis of the four-page axis. This ingenious idea allows the cart to be moved on several different directions, even rotating it.